---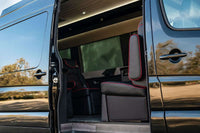 Sale
Bespoke Motorized Door Kit
Sale price $4,900.00 Regular price $6,000.00
The Bespoke Motorized Door Kit opens and closes sliding door automatically. Motorized operation makes it quick and easy to safely open and close doors, even on extreme slopes.
Installation Included in Van Nuys, CA.
Bespoke Coach's Sprinter motorized door allows you to easily access the vehicle. It's capable of opening and closing three different ways to make it as convenient as possible. You can open and close the door either by:
1. Pulling on the exterior door handle
2. Pressing the interior door handle latch
3. Pressing the door button on the dashboard.
Safety is also an important factor that we considered when designing our Sprinter motorized door. We have a child safety sensor on the door to stop it if someone is in the way and with a light touch you can push the door open again. We also added a motorized step that emerges and retracts as the door opens and closes. Lastly, in case you forgot to close the door, it automatically closes as soon as the Sprinter starts driving. 
With Sprinter Add Ons we are providing customers with the ability to add our parts and accessories to their Sprinter vans as well. Serving the Greater Los Angeles area, as well as surrounding counties, we hope to give our customers the ability to add any type of customization, accessories, and upgrades to their Sprinter Vans. Upgrade your Sprinter today! Add on any accessories or upgrade to your Sprinter Van. 
Installation is included here at our facility in Van Nuys, CA.