---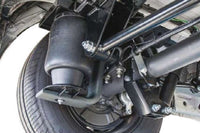 Air Ride Rear Suspension Upgrade
Bespoke Coach is now offering an Air Ride Sprinter Suspension Upgrade package for the rear suspension of your Sprinter van. It is available to retrofit on previous builds as well as an option for new builds. The Air Ride suspension completely replaces the rear suspension of your van, with a full 2-corner air suspension system for the rear axle, providing a smoother ride for those bumpy drives.
Installation Included in Van Nuys, CA.

BENEFITS INCLUDE: Constant ride height Increased comfort Better driveability Increased stability Comfortable transportation of passengers Less wear on tyres/brakes More environmentally friendly, lower CO2 emissions Spare wheel remains under the vehicle
SPECIFICATIONS:
AIR SUSPENSION SYSTEM: Suspension system contains mainsprings (trailing arms) with air-springs, shock absorbers and a stabiliser bar. The system has a dual-air-circuit with twin height sensors.
SHOCK ABSORBERS: Adjustable, double-acting shock absorber.
AIR SPRING: VB-TS (Tapered Sleeve) with double polyamide cord ply and extra low resistance and hysteresis. This air-spring is specially developed for use with light commercial vehicles.
CONTROL UNIT: The system comes with an electronic control unit which automatically monitors and corrects the vehicle's ride height. This ongoing process of monitoring and correction – which is unaffected by the load being transported – ensures safer vehicle handling and increases comfort.
With Sprinter Add Ons we are providing customers with the ability to add our parts and accessories to their Sprinter vans as well. Serving the Greater Los Angeles area, as well as surrounding counties, we hope to give our customers the ability to add any type of customization, accessories, and upgrades to their Sprinter Vans. Upgrade your Sprinter today! Add on any accessories or upgrade to your Sprinter Van. 
Installation is included here at our facility in Van Nuys, CA.